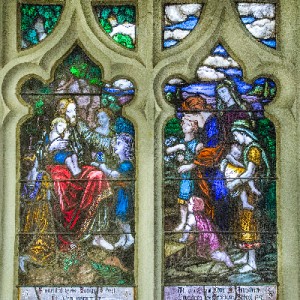 Do not remember the former things, or consider the things of old. I am about to do a new thing; now it springs forth, do you not perceive it? I will make a way in the wilderness and rivers in the desert.
—Isaiah 43:18-19, NRSV
The Common Place is a story of prayer, purpose, and God's desire to make all things new!
Our story starts with the Greenway Sabbath School. In 1858 Abby and William C. Longstreth founded this school to teach and nurture the children of Southwest Philadelphia. The pair also began a Sunday afternoon preaching service, and invited talented preachers from Baptist, Episcopal, Presbyterian, and other churches to proclaim the good news of Jesus Christ. When the neighborhood realized the need for an established church, it was one of these preachers — Rev. Henry E. Thomas — who became the first pastor of the Greenway Presbyterian Church. This faith community merged with Westminster Presbyterian Church in 1906, and the new congregation found a home in the heart of Southwest Philadelphia. For over a century, Westminster — and then New Spirit Community Church, which formed from Westminster's union with 9th Presbyterian — faithfully served this ever-changing neighborhood on the corner of 58th Street and Chester Avenue. However, in 2012 the building that had sheltered this community since 1910 was in disrepair and the future of this congregation's ministry was uncertain.
Fifteen miles away — in suburban Wayne, Pennsylvania — there was another Presbyterian congregation with a heart for mission. In 1995 Wayne Presbyterian Church had discerned a call to invest in urban neighborhoods and launched CityLights, a ministry that facilitated urban-suburban partnership and encouraged involvement in Southwest Philadelphia. This grew into a vibrant ministry under the leadership of Carey Davis, which evolved into a non-profit organization called the CityLights Network. Fast forward to 2012 … After nearly twenty years of partnership with churches, schools, and other organizations through CityLights, the congregation in Wayne asked: "How can we better support our sisters and brothers in Southwest Philadelphia?" At the time the New Spirit Church was discerning its future, the Wayne Church was discerning new ways to partner with this community. Through the power of the Holy Spirit, Wayne Presbyterian Church said 'yes' to caring for the building and the ministries within it, and New Spirit Community Church said 'yes' to a new way of being as a nesting congregation. As always, the Spirit moves in mysterious ways.
Through many conversations, much prayer, and generous contributions, a new thing sprung forth on the corner of 58th and Chester … We call this new thing The Common Place — a sacred space to do life together that serves the children and families of Southwest Philadelphia through faith, education, and support. Wayne Presbyterian Church took ownership of the historic building at 58th and Chester on October 1, 2013, and soon transformed the space into a faith-based, educational outreach and community center. The Common Place is still home to New Spirit Community Church. In addition, it provides annex space to Cornerstone Christian Academy, a long-time partner of Wayne Presbyterian Church that was instrumental in shaping the vision for The Common Place. The building also houses a youth-led worship service called the Common Worship Experience, the Scholars after school arts and enrichment program, and organizations offering various support services.
We know that God is faithful and we look forward to watching the ways that God will continue to proclaim a story of perseverance, renewal and hope.