Upcoming Services in the December of 2017: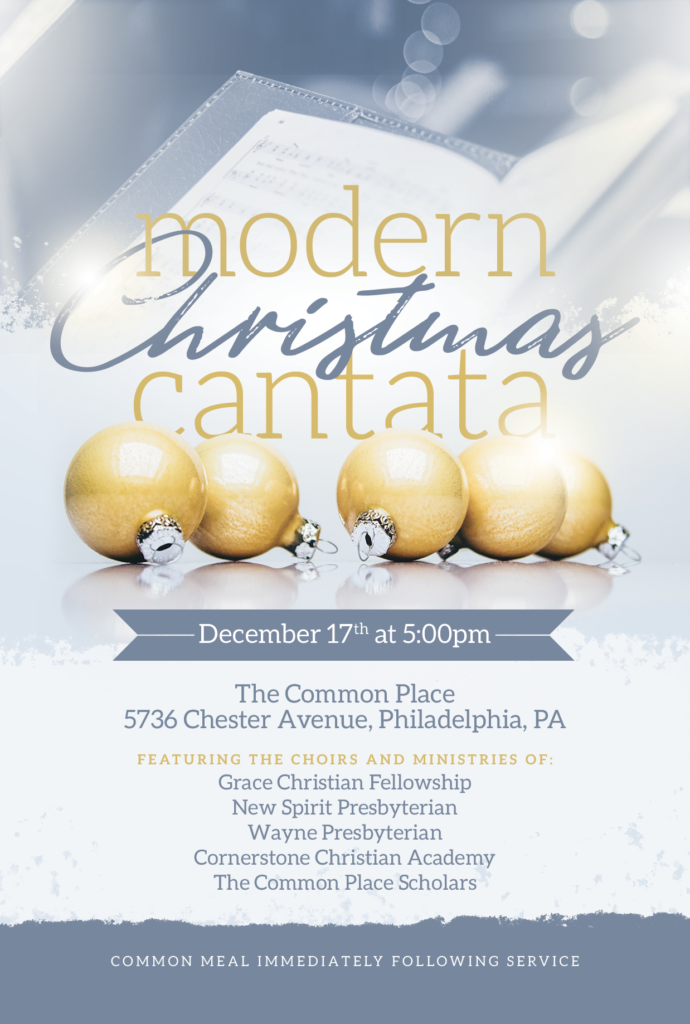 Each service is followed by The Common Meal, served at 6:30.
All are welcome to join us for worship and a delicious home-cooked meal!
Thank you to Wegman's for generously supporting The Common Meal.
The Common Worship Experience is a "kid led, pastor approved" worship service one Sunday a month at 5:00 p.m. Worship is youth-oriented and family-friendly; our Youth Leadership Team joins Rev. Aisha Brooks-Lytle and the house band in leading worship. We welcome you as you are — wiggles, giggles, and joyful noises included!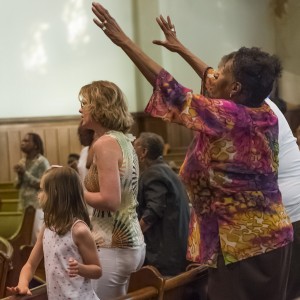 As a ministry of the Presbyterian Church (U.S.A.), we are Presbyterian in practice, but diverse in our worship style. With leaders who have experienced many ways of worshipping, we value the common threads that connect us as Christians – namely: we love God, we love one another, and we follow Jesus Christ in all we do through the power of the Holy Spirit. At The Common Place, we seek to be a spirit-led and spirit-filled worshipping community that walks with you in the journey of faith.
What can I expect in worship?
At The Common Place, we believe that worship is not a spectator sport. We use the framework of a typical Presbyterian service. "What does that mean?", you ask. We pray – sometimes together, sometimes as call and response. We sing. We read Scripture. One of the pastors offers a message, and we celebrate Communion (the Lord's Supper). You are invited to participate in worship through song and silence, prayer and praise, fellowship and feast. Come as you are, and know that you are welcome at The Common Place.
What does it mean to be Presbyterian?
The Presbyterian Church (U.S.A.) is one tradition within Christianity. We believe that the Triune God – Father, Son, and Holy Spirit – loves each of us, is gracious to us and longs to be in a relationship with us. Our life of faith is a response to the love and grace we have received, and our worship follows this same rhythm.
The Holy Spirit gathers us together for worship, where we are nurtured by the Word of God and at the Lord's Table. We believe that God's Word is central to life and to worship. At The Common Place, we engage Scripture in many ways – sometimes through acting out a Bible story, sometimes through song, usually through a message from one of our pastors. We also experience God's grace at the communion table, where all who trust in Jesus Christ are welcome to share in the feast he has prepared. When we worship, we believe that the Holy Spirit opens our hearts and minds to encounter God in new ways, and we pray for the Holy Spirit to guide us as we strive to follow Christ in service to the world.
Of course, that's just the tip of the iceberg when we talk about a life of faith. Join us at The Common Place, and we'd be happy to continue the conversation.

Tell me about communion…
Just like the early church, we also gather around tables. We sit at tables every day. Maybe it's the kitchen table, where you sit with family to drink coffee each morning. Maybe it's a lunch room table where you sit with friends to talk about what's going on in your life. Tables are the site of some of our best conversations and our biggest celebrations. It's the same with the Lord's table. Here we join sisters and brothers in faith in the feast that Christ prepares for us. It's a chance to gather as one diverse body to be fed, nourished, and strengthened so we can live as God intended.
Communion reminds us that sitting together around the table is a holy experience. At The Common Place, the feast continues after worship as we gather for the Common Meal. This meal is free and open to all. Please join us!
Why is there water in the sanctuary?
Water is one of the most common and essential elements of life. We use it every day – to drink, to cook, to bathe. We also use this common element in worship to baptize people of all ages. Through the power of the Holy Spirit, ordinary water is used for extraordinary purposes – to show us how much God loves us. In the waters of Baptism, God claims us as beloved children and calls us to a new life in Jesus Christ.
Every time we worship – even when we do not celebrate the sacrament of Baptism – we pour water into the baptismal font. We do this to remember how much God loves us. Even when we have made mistakes, God offers us grace and invites us – again – to a new life in Christ.
How's the music?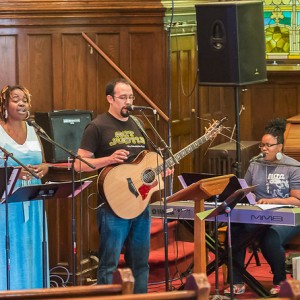 The house band leads us in song. The music is soulful, uplifting, and reflective. We project words on the screen, so you can sing along with us or just close your eyes and let the Spirit move you. We hope you feel the freedom to worship God through singing and silence, through joyful noise and peaceful praise.
Can my kids get involved? Can I get involved?
Yes and Yes! Join us for the Common Worship Experience at 5:00 p.m. on any of the Sundays listed at the top of the page and let's explore the ways you can use your unique gifts at The Common Place or contact us: